Transform Your Home into a Year-Round Comfort Zone
Ever wondered what makes a house genuinely cozy and comfortable, regardless of the season?
We've got the secret: home insulation! It's a game-changer that keeps your home refreshingly cool in the summer and invitingly warm in the winter. Say goodbye to unbearable heatwaves and bone-chilling cold nights!
Introducing our premium-quality Attic Insulation – a cutting-edge thermal barrier that regulates your home's temperature, ensuring that you enjoy the perfect indoor climate year-round.
But wait, it gets even better! Insulation is not just a luxury but a smart investment since you'll witness substantial energy savings. Your home will consume less power, and you will likely recover the cost of insulation installation in less than a year. Plus, with the rising cost of natural gas and electricity, your savings could materialize even faster!
Made from rapidly renewable organic materials rather than petroleum-based chemicals commonly used in other insulation products, ECOSE Technology reduces binder embodied energy by up to 70%, and does not contain phenol, formaldehyde, acrylics or artificial colors used to make traditional fiberglass insulation.
EcoBatt™ Insulation doesn't look like any insulation you've ever seen, but that's because its natural brown color represents a level of sustainability never before achieved.The color comes from ECOSE™ Technology, a revolutionary, new sustainable binder born from five years of intensive research.
How Home Insulation Works:
In the Summer
In the Winter
In the Summer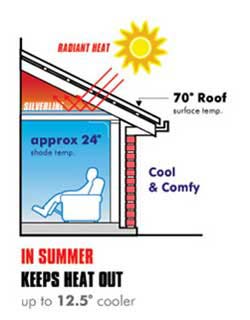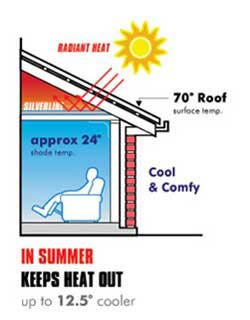 During the summer the suns powerful rays radiate down onto our homes, the roof and walls heat up and the temperature in the attic can rise to nearly 170 degrees.
This heat enters the home and causes things to become quite warm and uncomfortable. You then have two choices….turn on the air conditioning and watch the electric meter spin, or suffer with the heat. Homeowners often complain of an air conditioning system that runs all day and never cools the house below 80 degrees.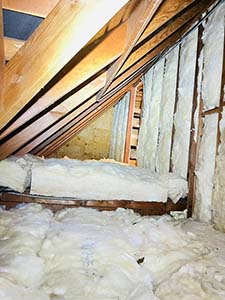 This is typical of a poorly insulated home, the heat is entering the home at about the same rate as your air conditioning can cool it.
The solution is to reduce the heat-load and block the heat from coming into your home.
Insulation installed in your attic and walls will dramatically reduce the amount of heat entering your home; the house stays cooler longer into the day and the air conditioning, when it does come on, runs much less often.
In the Winter
Discover the Power of Insulation: Transform Your Home & Save Big!
Tired of skyrocketing energy bills? Welcome to a better, more efficient way of living with our premium insulation solutions! Don't wait another minute—take advantage of our limited-time discount offer now and see what a difference insulation can make in your home.
A well-insulated home not only keeps your wallet happy but also creates a healthier, more comfortable living environment. Our top-notch insulation ensures your air conditioning and heating systems work less, drastically cutting down on your energy expenses.
But that's not all—imagine having that perfect indoor atmosphere, all year round. With our insulation, say goodbye to excessively dry air and hello to comfortable, refreshing air quality, as your HVAC system won't have to cycle as much anymore.
Plus, make your home a haven of peace and tranquility by blocking out pesky outside noise. Our insulation's impressive sound-reducing capabilities will leave you wondering how you ever lived without it.

This company has done a unrivaled job. They stand behind their reputation and are true to their word. They did insulation clean up, installing new insulation, sanitized and rodent proof. It was a sunny day and the team worked hard through the day. I got everything they promised me. It's only been a few days but you can already tell the different in the temperature of our house! A pleasure to deal with!
Attic Crew really saved us! The insulation we had in our house was so ancient, we were using the heater all day and night! After Attic Crew changed our insulation and cleaned our attic, everything became so much better! The house stays cool on the warm days and warm on the cold days. Thank you so much for coming so quickly and for giving us a good price!
I was looking for a company to do my attic insulation and saw AttiCrew has a genuine reviews, I saw they used Eco bat insulation so I decide to give them a call. Am I glad I did, I never realized what a difference insulation would make! Adi show up the same day we called, he was professional and well-informed, and after talking with my wife we decided to go with AttiCrew. They guy's arrived 7am they went straight to the attic! They explained everything to me and made very quick work of the process. I couldn't be happier with the entire experience, from the quote Adi gave to me to the final job! Thanks guy's!
Joey and his crew arrived on time. They were very professional and considerate to our needs. We needed our old insulation swapped out and have our attic and crawl space rodent proofed. They did an amazing job at doing so. They did all the work beyond expectation. He was considerate enough to take pictures of all work completed and presented me everything. I would definitely recommend them to anybody, very professional company. Thanks again guys for all your hard work it is much appreciated.
Let's get you an estimate
Ready to get your insulation under control?